Quinton de Kock has announced his immediate retirement from Test cricket to "spend more time with his growing family." He wants to spend more time with his growing family, especially now that he and his wife are expecting their first child in the near future.
De Kock was scheduled to miss the second and third Tests against India due to paternity leave, but has instead decided to retire from the longest format. He is still available to represent South Africa in white-ball cricket.
Quinton de Kock said in a statement released by the CSA:
"This is not an easy decision for me,"
"Now that Sasha and I are preparing to welcome our first child into the world. And aim to expand our family beyond that. I've spent a lot of time thinking about what my future looks like and what needs to take precedence in my life.
My family means the world to me, and I want to be able. To spend as much time as possible with them as we embark on this new and exciting chapter of our lives.
De Kock, 29, served as South Africa's interim Test captain in 2021. And then retired from the sport at the conclusion of the year. He guided South Africa to a 50% victory rate in four Tests against Sri Lanka and Pakistan.
South Africa defeated Sri Lanka 2-0 at home but lost 2-0 in Pakistan. De Kock was rested from South Africa's ODIs against Sri Lanka and the Netherlands. After expressing concern over the constraints on bubble life in the Covid-19 epidemic.
"It's unfortunate to lose a player of Quinton's caliber in what we still consider to be the prime of his career and a relatively young life. But family, as we all say here at CSA, is everything," says the CSA president.
When South Africa chose to give their players the option of kneeling, raising a fist. Or standing to attention, de Kock was one of numerous white players who declined to do so.
On the first expedition where they made anti-racism gestures, in the West Indies. He chose none of them, but did raise a three-finger salute in honor of a friend. Who had been wounded in Afghanistan and to indicate his support for rhino conservation.
Quinton De Kock initially refused to take the knee during the T20 World Cup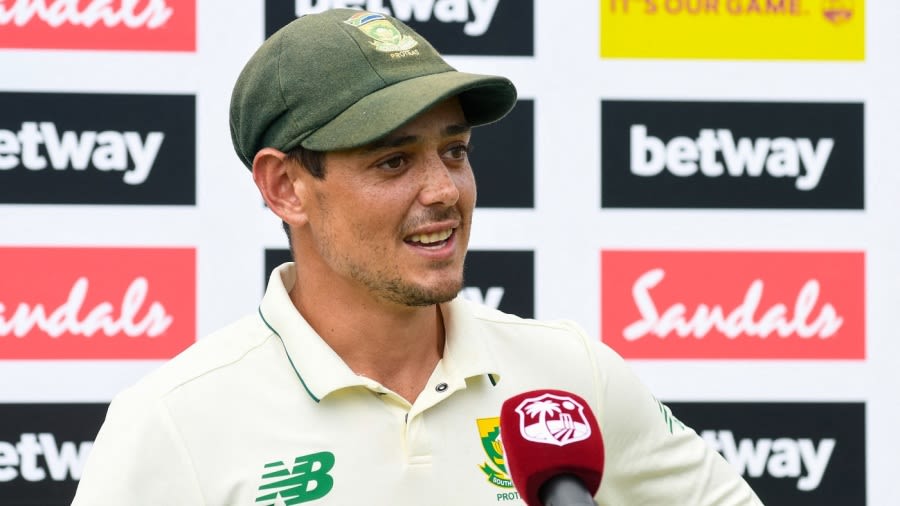 You may also like: Cricket Betting & Online Casino Games
And as a result, he missed the game against West Indies. He later apologized and has since taken the knee.
De Kock made his Test debut against Australia in 2014 and went on to play 54 Tests. Averaging 38.82 and scoring 3300 runs with six hundreds.
His first century came at SuperSport Park, the same venue where he struck 129* at No. 7 in South Africa's 280-run victory over England in 2016. Later that year, he scored a match-winning century in Hobart. Guiding South Africa to a third consecutive series victory in Australia. In 2016, he averaged 63.18, his best in a calendar year.
Read the following Topcricketindia article to learn more about 1CRIC's playing strategy and other game-related information.
Read more: Gary Kirsten Declares Interest In Becoming England's Test Coach
Visit also: Three terrorists were killed near Srinagar, one of whom was responsible for a police bus attack, according to cops.