Michael Hogan veteran Australian seamer, will retire from professional cricket at the age of 41, after a testimonial year with Glamorgan in 2022. For his new county, the veteran Australian has taken 589 wickets.
Michael Hogan was the club's highest wicket-taker in the County Championship in 2021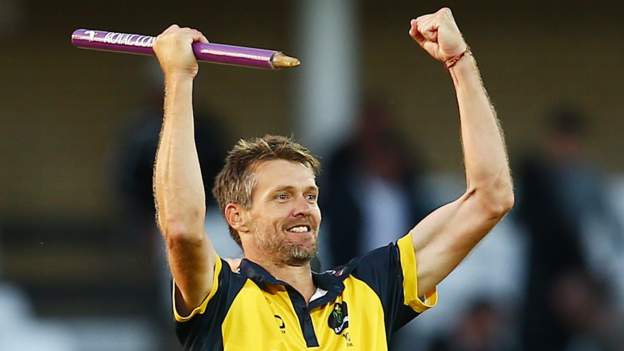 You may also like: Cricket Sports & Indian betting app
And took the final wicket in their Royal London Cup final win against Durham in August. He made his first-class debut at the age of 28 and has since collected 589 wickets across formats for Glamorgan.
His testimonial year was supposed to take place in 2020, but it has been postponed twice owing to Covid's impact. Hogan joined Glamorgan in 2013, using a British passport. And the club's director of cricket, Mark Wallace, predicted that he would be a likely inclusion in the county's all-time XI.
"Michael's Testimonial has been a long time coming, and it's well deserved following years of outstanding service at Glamorgan," Wallace remarked. "Though we knew this day would come, it's bittersweet since he's been such a fantastic player for us and has such clout, but he certainly deserves to go out on his own terms."
"He's been excellent for Glamorgan and would definitely play in our greatest-ever side. Which shows how good he's been since coming here from Australia." He's just got a year left with us. And knowing Michael, he'd like to go out on a high note. And I'm sure he's got a few more wickets in him before he rides off into the sunset."
Michael Hogan said:
"I am grateful to the club for deferring my Testimonial and allowing me to do it next year,"
"It's been a tough couple of years both on and off the field. But winning the Royal London Cup made it all worthwhile."
"Wales has felt like home to me, and I'm looking forward to another successful season. With this fantastic team next year before hanging up my boots for the final time. " I'm 40 now and need to spend more time with my young family, while Glamorgan should perhaps start looking to the future and going in a new direction."
Glamorgan confirmed last week that David Lloyd would succeed Chris Cooke as club captain in 2022. And they have already signed Eddie Byrom, James Harris, and Sam Northeast to bolster their team for the coming season. After a promising 2021 season, they will look to fight for promotion to the Championship.
Read the following Topcricketindia article to learn more about 1CRIC's playing strategy and other game-related information.
Read more: Mohammad Huraira becomes second-youngest triple-centurion in Pakistan first-class cricket
Visit also: Steady prove that Omicron is spreading speedier than Delta variation: WHO